Emergency Water Extraction in Ronkonkoma, NY
Trusted Ronkonkoma Water Damage Remediation since 2004!
If your property has been devastated by water damage in Ronkonkoma, New York, call Hydrofresh Cleaning & Restoration for emergency clean up. The dangers of water sitting in a building, in the carpets, under the flooring and behind the walls are real. The factors of time, temperature and amount of water determine the growth rate of toxic microorganisms such as mild and mildew. Ronkonkoma water damage is far less dangerous when Hydrofresh Cleaning & Restoration is involved. Hydrofresh Cleaning & Restoration has the knowledge, tools and expertise to immediately eradicate the water and completely dry the affected areas.
If your Ronkonkoma home has water damage, Hydrofresh Cleaning & Restoration can eliminate it!
---
Speak to a Ronkonkoma Water Damage Remediation Expert
---
No Insurance Hassles!
Hydrofresh Cleaning & Restoration will work with your insurance directly
to remediate your Ronkonkoma water damage problem.
Through the years, Hydrofresh Cleaning & Restoration has developed a safe and effective protocol to detect, contain and eliminate water damage in Ronkonkoma, NY.
Hydrofresh Cleaning & Restoration's Ronkonkoma Water Damage Remediation Process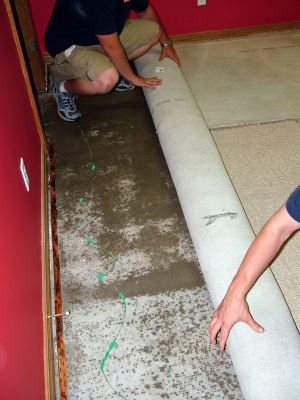 Immediate Dispatch: Time is of the essence. A qualified Ronkonkoma water damage crew is quickly dispatched because the longer water sits, the greater the damage to your Ronkonkoma building structures.
Assessment: Hydrofresh Cleaning & Restoration determines which category and class of water damage present. Immediate plan of action is then created keep your Ronkonkoma environment safe from contaminants.
Extraction: Hydrofresh Cleaning & Restoration removes all water with its high powered extractors and opens structural components such as ceilings and walls that can hold hidden water to prevent areas of pooling, which bread microorganisms.
Drying: State of the art air movers and dehumidifiers are delivered to your Ronkonkoma building to dry all surfaces, including walls, ceilings, floors and carpets.
Sanitizing: Contaminated surfaces are sanitized to remove toxins, especially when class 3 water has been identified. Damaged areas are thoroughly sanitized and odors are neutralized.
Water Damage + 48 hrs = Mold
Time is Critical!!!
---
WHAT CUSTOMERS ARE SAYING:
"Amazing we've had the carpets cleaned and it was dry in no time! It is a wonderful moment when you finally find a company that gives you the dollars worth for what is charged. Fantastic!"
Yervasi
---
"Our customers have been giving us so many compliments on how clean our bakery is Thank you."
Hummel Hummel Bakery
---
"The work was excellent, very professional. I would highly recommend the service to everyone."
Butreco
---
5★★★★★ - "Called Ray for the first time today after I had searched for carpet cleaning companies and read his reviews. We used a Hoover carpet cleaner to clean some office carpets and the result was blotchy carpets in the waiting room. Afraid we may need to replace the carpets we called Ray who arrived within a few hours and took care of the issue right away. We will absolutely be using him again and will never try to do it ourselves again as we could have been faced with a full carpet replacement. Ray was a really nice man and the office owner liked him so much he was going to use him for his home carpet cleaning needs."
Jennifer B in Port Jefferson, NY
---
Call for FREE Emergency Water Extraction Quote
---